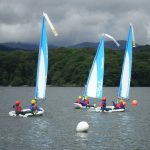 ON 29th July we arrived at the scout hut at 8 in the morning and left at around 8.30. We were split into 2 groups (older & younger) to go on the minibuses.
About 2 hours later we stopped at the services to buy some sweets and to go to the toilet. By that time we were all bored. Then we all got back on the bus and set off.
Another 2 hours later we stopped again and had our lunch and went to the toilet and looked in the shop. Later we arrived at the campsite where we unpacked all of our bags from the trailer.
30th July. The next day we woke up at 7am and had breakfast. Then we went to Lake Windermere to go sailing. We had to wear our waterproofs to stop us getting really wet, but we did anyway. We had races in the sailboats and some boats had to get towed by the speedboat because of the lack of wind. Mark and I won the race and are officially the dream team.
After we had done the sailing we got changed and came back to the campsite. When we got back we all had lunch and when we were finished we got ready to go climbing. When we got there we were told all of the safety rules and then we started climbing. We did two different climbs (one easy one and a harder one) After we finished we still had extra time so some people did both of the climbs blindfolded.
Molly
31st July Tristan's Birthday
We woke up at 7am on Sunday and had breakfast. I had a massive sandwich containing 2 hash browns, 2 rashers of bacon, and 1 fried egg. I ate it very quickly and it was yummy. We went back to our rooms and packed for the hike and had our bags checked about 7 times and it took ages. I packed everything. We went to Loughrigg Fell and in my group I had Emma, Alisha, Aimee, Rebecca, Ginny and Ben. The leaders were Zeke, Joe and Chris (CK1) The weather was hot then it looked like it was about to rain so we put on our waterproofs and then it didn't rain so we took them all back off. The walk was difficult because it was steep and rocky. From the top we could see 4 lakes. At the top we had our lunch and found a geocache that has a travel bug in it. We went down the hill and discovered the path we were following had turned into a fern sanctuary. It was rather interesting because you couldn't see anything and me and Ben ate more fern than dinner. All you could hear was  'help I can't see,' 'ouch' and 'ptthherrrrr that tasted disgusting'. When we got to the minibus we put our bags on the minibus and then we went and got an ice cream but I couldn't have it so I got polos. Then we came back.
Aiden
Wednesday 1st August
We woke up at 8am on Monday and had breakfast. The older group had already gone and the it was the younger group  who were left. For breakfast I helped make the scrambled egg. I had scrambled egg, bacon and toast. Once we had our breakfast we went back to our rooms to get packed and ready for ghyll scrambling. After we got ready we went on the minibus and had to drive for 45 minutes. Once we got there we had to put on a wetsuit, helmet and buoyancy aid. Then we went down to the river and started walking up it. When we got to the top there was a waterfall and we had to jump off and I went first. I was really nervous. The water was really cold.
Emma
Tuesday 2nd August
We woke up and ate breakfast. We had bacon, eggs and beans. We travelled to the lake and put on buoyancy aids and helmets, learnt how to kayak then got on the water. We kayaked around the lake then played a few games such as world domination and stuck in the mud. At the very end we all jumped off the jetty into the water. We got changed and drove back to camp for showers. After lunch we took twenty minutes to drive to the town Ambleside for an hour to do some shopping. After that we walked to a fish and chip shop and I had sausage in batter and chips. Finally we drove back to camp and played some games.
(?????? no name – who wrote this bit ????)
Wednesday 3rd August
We woke up at 7am and packed for our day ahead. We had tree climbing and rafting. Our instructors for tree climbing were Mark and Rory. We had to climb to the top of the tree.
Then it was lunch and everyone went to the shop (providore) but it wasn't open. Then we had our rolls, fruit, yoghurt and a chocolate bar. Then we went rafting which was really fun because during the tree climb we all pegged Rory and Mark. Rory and Ginny were our instructors and we wrote 'jump in' on a wooden peg and put them on Rory, Millie and Josh so they had to jump in. In my group was me, Ben, Josh, Millie, Aiden, Kieron, Aimee and Zeke. We all fell in.
Alisha
Thursday 4th August
First we woke up and had breakfast. Breakfast was eggs, bacon and beans. Then we did our bags for hillwalking. Then we set off. In my group I had Zeke, Ben, Aiden, Emma, GInny, Joe, Alisha and Me!!!!!! We climbed to Easedale Tarn. We saw a lot of sheep. I got so close to a sheep I ran for my life because I didn't realise it. Then there were about 15 sheep in our pathway.
Aimee
Friday 5th August
Everyone was up early and after another filling breakfast (you can probably guess what by now) we all worked hard packing up, cleaning and loading the trailer before saying goodbye to Great Tower Scout Campsite. We headed back home to our families and arrived safely in Letchworth early evening. Thank you to all of our scouts, young leader and leaders for an amazing week, and also to Jackie from 7th Letchworth and CK1 from the District Team who came along to help us this year. Also thank you to the instructors at Great Tower Scout Camp and also the Old Smithy Fish and Chip shop in Ambleside who found us all seating at short notice when the heavens opened. We all had a brilliant trip, and now it's time to start thinking about the next…………………..
8th Letchworth Scout Leaders