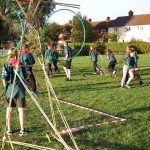 Scouts took part in a Quidditch tournament on the last Thursday evening of this term. Two teams, Hufflepuff and Slytherin, competed to win the coveted honour of Champion Quidditch team 2017
All three matches played were extremely close. The Beaters on both teams did a good job preventing the Chasers from scoring too many goals, and after two games it was one win apiece. In the deciding third game scores were level on 20 each when the Golden Snitch was released. In the final moments, just as Hufflepuff's Seeker went to grab the Golden Snitch she came off her broomstick and Slytherin's Seeker zoomed in and snatched the victory.
The evening was finished off in style with a BBQ.
The scouts have been getting fit and learning Quidditch as part of their Skills Challenge this term. Photos of all the action are on the Photos link.