Day 1- 4/8/19
We got no the minibus at 7.30 and travelled for 2 hours then stopped at the services for a tea break for about 20mins. We travelled north for two and a half hours then stopped for lunch, then one more hour in the minibus and we arrived at around 3pm. We then made tomorrows lunch. We are now playing games while we watch the thunder storm.
Written by Sean and Ollie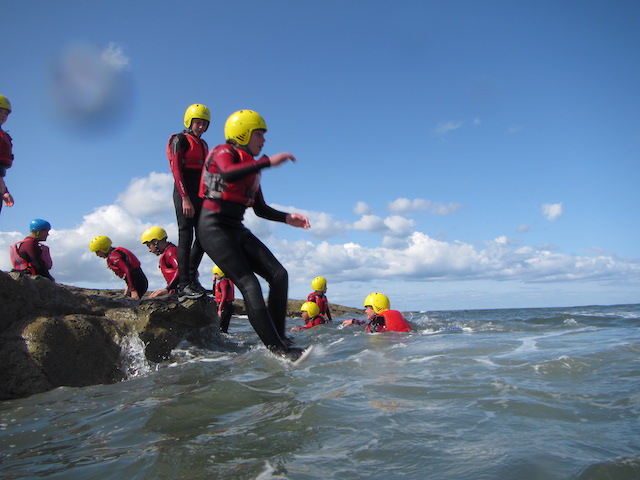 Day 2- 5/8/19
We went canoeing in the morning and played games like Simon Says and Water Polo. Most of us got very wet and then we got our wetsuits on and drove to the sea for Coasteering. It was really fun and we got to jump off the rock pools into the sea, and sometimes we would swim through the different caves there were. It was really good and when we got back we had dinner and then played Water Pong in the evening.
Written by Will and James
Day 3- 6/8/19
The day of Phish and Crab. In the morning we had breakfast we had breakfast and then we route planned our trek. When it came to lunch we ate our food whilst playing cards, including Crap Trumps and Uno. Soon after we drove off into the distance on a Unicorn… Joke, we were boring and used a minibus. We then went crabbing, Ben caught the biggest crab. We carried on rock pooling until it was time to go fishing. Aimee, Kieron, Ben, Will and Alisha got onto the boat, one of the fishermen looked like Jake Paul with spots. We then went fishing. One the way back the boat was rocking in the big waves. The other group then went fishing while we had fish and chips.
Written by Alisha and Ben
Day 4- 7/8/19
At around 9.30 we left, didn't leave completely, just to go hiking. This is how our group went hiking.
Walking throught heather.
Walking up steep hills and rock covered hills.
Everyone was eating my Squidets.
Having a shower at the ice cream van.
Ben falling a total of 43 times.
Will rolling down the hill multiple times.
Will and Ben sliding down the hills on their bums.
Aimee face planted.
Walking through rivers and streams.
Getting back 2 hours late.
Written by Alisha
This is how the younger groups hike went
We crossed a bridge over a river.
Then we walked up a steep hill.
We went to the forest and met Joe and Jay.
Then we had lunch.
We ended up getting lost.
Also it began to rain and all of us got drenched.
Then we went home
Written by Cameron and Rory
Day 5- 8/8/19
Shopping and Rock climbing. At around 9.45 in the morning we left to go shopping at a town called Alnwick. We started at Morrisons near the town centre and walked around in pairs. The town centre has a market that was open and a lot of local shops. But there were barely any souvenir shops. At about 11.30 we went to the rock climbing, we split into our walking groups and went climbing while the other group went abseiling. In abseiling we were about 20 meters up and there was a massive drop at the bottom (that part was quite tricky). In climbing we had to go up about 15 meters and there was a lot of hard to reach hand and foot holds making it very difficult, even more so for Will since he is small for a dwarf.
Written by Kieron and Cameron Mc
Day 6- 9/8/19
In the morning we did some route planning for tomorrows walk. This time Cameron joined the older group due to the fact his legs were fully functional. The Stand Up paddling boarding we had planned for the day was cancelled so we went to the beach. There we would be Coasteering and body boarding instead. But the sea was too rough and the tide to high to do either, so we drove to Newcastle and played some crazy golf. Mike beat Zeke (allegedly) and Mike and Joe came joint first. Alisha came last with a total of 114 points. Then we got home and had dinner. The End.
Written by Will
Day 7- 10/8/19
With an early start everyone got their bags prepped for a half day of hillwalking. For a change it was raining on arrival, but of course this did not stop us. Halfway through our walk Jay and me were to discover we had missed our first turning and ended up miles of course. In the process of finding our way back Sean and me decided to complete our swimming badge falling in a river. Everyone made their way through 3 Fords while in the process of our journey back to the minibus. The outcome of this walk was to never let Zeke map read ever again.
Written by Mae.
More photos from the trip available on the link on the photos page